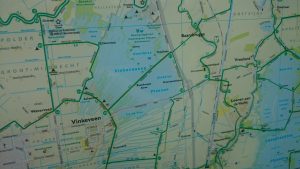 I took the road to Baambrigge
So I went wrong and had to deal with it.
It started to rain but I just pretended that it didn't. Let's see if that works, if you say it's not there then it's just not there.
A little panic
Take a look again at the map.
I went down to Nes a/d Amstel, but before I reached 'The Nes', I took the ferry and biked down to the loop close to Waver. At that point I started to see signs with Ouderkerk again. I think this was the moment for some little panic. Just a little.
Yet, It is the wrong time and place to get in panic. And it won't help anyone.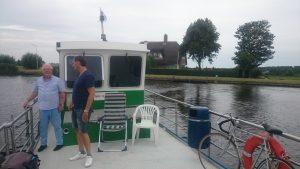 The ferry. Cheap, easy and people who love their job.
So I decided to enjoy the meadows. The rain had stopped, that was positive.
I saw a bridge, again an intersection. I took a small break, it was hot and the backpack made me sweat more than I normally already do.
Winner
I moved on, until the signs that told me to go straight to Ouderkerk or go right to Vinkeveen. I did not know how long I had to go for Loosdrecht but I knew there was a campsite in Vinkeveen what I also wanted to visit a few weeks earlier. To be safe, I biked towards Vinkeveen. If he night would fall before I could reach Loosdrecht I could sleep at campsite in Vinkeveen.
Which actually meant that there was only one option for me. Go for Loosdrecht. My goal was Loosdrecht after all, I would not feel like a winner if I made it 'only' to Vinkeveen.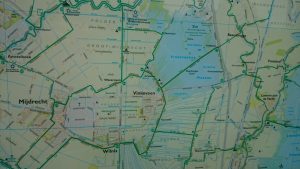 I was lost but somehow found my way
At this point I didn't know how I biked. I just followed Vinkeveen. I remember taking a big bridge and decided I was done with the 'tour of nature' and go for the big road. I finally saw signs of Loosdrecht.
How lost was I, if even now, sitting nice and easy on the cough I do not exactly know how I biked. But I believe it was towards Baambrugge and then down to Loosdrecht. As you can see, a lot of water so I had to take again a little of a D-tour.
Never regret anything
On my way to Vinkeveen, I told my mom that I was still biking and that my ass was hurting so bad.
She asked me if I had any regrets. Crazy enough, I had no regrets at all. Still proud of myself that I just did it, as crazy as the plan was, I did it. Even when things may seem impossible or when it's hard to get a smile on your face, I will do the best I can to see the positive things. At the end you will have some good stories to tell.
Just go and move one
Even when I was not angry or felt miserable, I could not really enjoy the bikeride anymore. I started counting my bicycle kicks. O men, I realized I had so many more kicks to go. Oké, changing plans. I just started talking about something. I think I asked myself, who told me that this was going to be fun, the other me said, that in a way this makes me happy. Can you believe it?
By the minute I biked slower and slower. Somebody had to motivate me.Nobody but me was there to do that. I kept telling myself, as long as I don't bike backwards and don't stop, I move forward.
"You will also reach your goals with babysteps, keep going is the only option to get there."
Every once in a while, mostly older couples would pass me and said a friendly hi. It was harder now to smile back or pretend It did not hurt.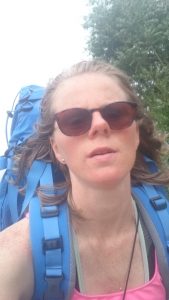 Will this face tell you enough?
Yeah, Loosdrecht
Finally the sign of Loosdrecht
I had to take this road for still 8 km. I almost cried. I can't even explain how much pain I felt in my ass. There is not much fat you know.
I was counting the minutes when two older guys passed me. "Are you tired?" I wanted to say a lot of things but the only thing that came out of my mouth was "That I started to get a little tired now yes."
Counting seconds and thank you everyone, there was the sign "Fort Spion".
The thought of getting off that bike and put that 'big blue thing' down….
First thing first, I called my mom. I made it!
Special case
After a short search I found the owner. Very nice man.
His first question: "Did you come with that bike?" Yes sir.
He told me he had never seen anything like that. At that point I already realized that I was a special case.
As we talked he showed me around. It seemed that he will go camping himself with his daughter at the same campsite where I will give my first camping- clinic with 'FriendsandSports' How small is this world?
The answer to the 'why' question
Funny enough, The pain in my ass was gone, I almost forgot what an adventure it has been.
I started to set up my tent as well as my hammock that my friend gave me for my birthday. The hammock was a special gift with a special memory of our trip in Europe. I had it for a while now and this was the first time I could use it.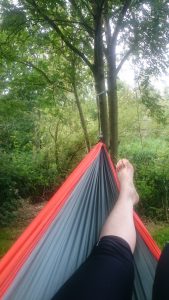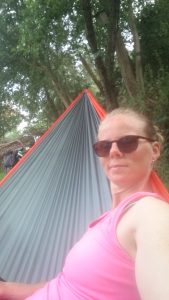 And this is my answer to the 'why'.
Forgot how hard the past hours were. And only remembering the good things..
The only thing to worry about was: Will I sleep in the tent or hammock.