Last blog I said that I needed to follow Ouderkerk a/d Amstel. I didn't want to take the normal google bikeride, cause that would not have giving me the nature that I was looking for.
I jumped on the bike with my mom saying: "Syl maybe you should just bike around the block and see how hard it will be." I told her that I would just drive and I could turn soon enough if I  would realize that this was a stupid plan.
Surprisingly, I quickly  saw the signs Ouderkerk. The sun was staring at me and nature was waving. Yup, this is Syl in her happy place!
I biked along the water and on my way I found an old windmill, if you want, it's a nice place to sit and relax a bit, about 20 meters further there is a small ferry that you can take for maybe 1 euro and a little bit.(cash only) I didn't take this one, later I was told that the other side was even a better bikeride.
So I kept driving and along the way people were almost breaking their neck while they were passing me. All those questions in their eyes: where is this blue monster taking this girl to.
I just smiled back or sometimes pretended that I was stupid. Ha, maybe I was a bit stupid.
Suddenly Some tour busses and cars were waiting for something, I decided to take a look and asked a man with his dog what was going on.
Seems to be that there was a cheesefarm, called the "Rembrandt Hoeve". I asked if it was worth a visit. He told me with lots of proud on his face that it certainly was, cause his wife worked there.
I needed a lunch-break anyway so after the friendly people told me to lock my bike somewhere so that the Chinese people (the group before) would not take a ride with it, I went in.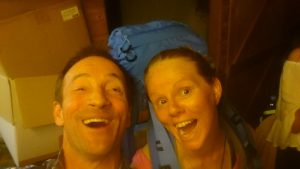 You will get a free tour and will learn how they make cheese and wooden shoes. To be honest, I am not sure if it is free, but I just joined a group and so it was free for me.
When the guy saw me in the middle of this Turkish group he told me to come up front to taste some cheese.
So people, he knew I just joined the group without paying and it was OK!
Then I met the older man's wife. Very friendly. She said that it must be hard to carry on that backpack the whole day. I told her it was fine and that I went camping and  would write about it. She was a writer herself and told me to go to her boat where her husband was and that I had to ask for some tea. Unfortunately I could not find this man or his boat. I guess he was going for a small boattour himself.
I moved on.
On this side of the road you will see also some nice, or how we say it in the Netherlands some gezellige cafe's. Right at the water. I passed them because I just had my break.
So far so good, I was happy with my decision to not have a plan and just go for whatever the road was planning on giving me.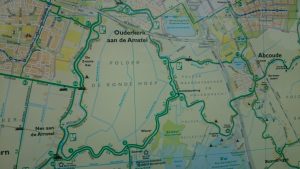 And then.. There was Ouderkerk aan de Amstel. I arrived at an intersection at a bridge.
In my mind I had to go straight and soon I should see a sign Abcoude. Well intersections are not my best friend. I went straight and drove for a little bit until I saw another sign.
I stood there for some minutes as a woman passed me and asked if I needed help. Well, I guess I did need some.
We both came to the conclusion that I went wrong somehow. I knew where I started my 'Sylliemove' and I think we all do by now.
The woman told me to take the ferry. And then follow that road.
I paid an euro and crossed the water. In the meantime it started to rain a little and the wind was not very friendly either.
I still had a long road ahead. Oepsie…..
In the next blog I will tell you how my D-tour went and how I was struggling with that big 'monster' and my omabike.